Before joining the next freak out claiming Twitter has deleted an account know how to tell when Twitter has suspended an account versus when the user has temporarily deactivated or deleted their own account.
Here is the picture in lieu of a thousand words. Please feel free to download it and share widely the next time this comes up. Be sure to check the account in question first to verify the status.
Keep scrolling for more analysis of this Twitter phenomenon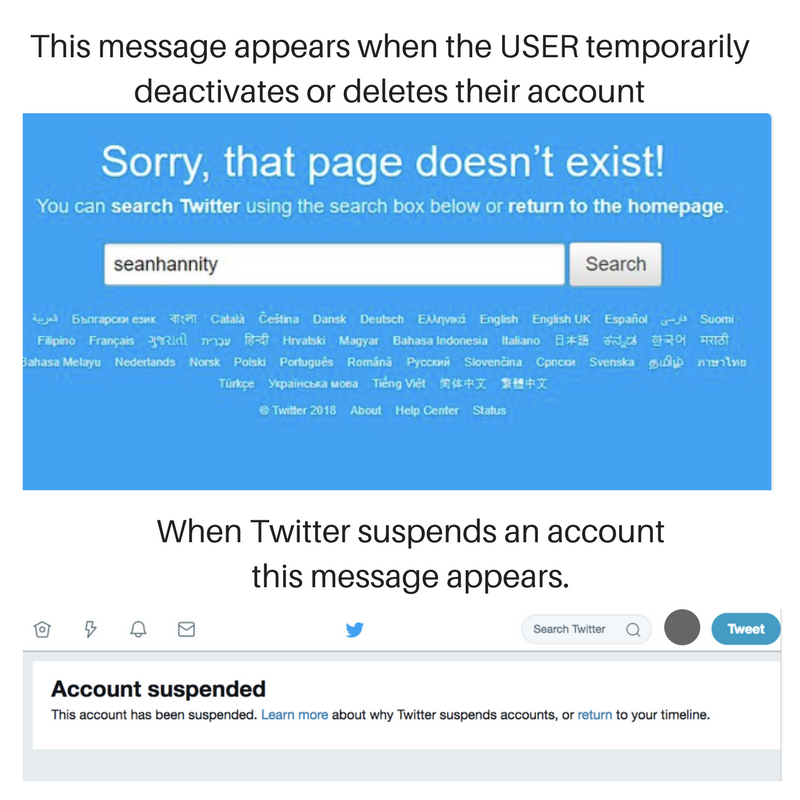 I've seen this pattern a few times. The two most notable being Julian Assange and Sean Hannity. Their accounts went offline. Twitter exploded. Their detractors celebrating. Their supporters raging about being oppressed.
In both those cases the message was the blue "that page doesn't exist" message which means the user  – in these cases Julian & Sean had temporarily deactivated their accounts. Both were back online in a few hours.
But not after another round of chaos, confusion and another strike on the wedge driving division. All this could be avoided if people on both sides would stop and remember the difference between a user's deactivation and Twitter's deactivation of an account.
Deactivating one's account and getting supporters riled up that they are being oppressed is an excellent diversion strategy.
Example: Hannity's Twitter Account deactivated 1/26/2018
Hannity's Twitter account went offline right after his embarrassing moment having to backtrack that reports of Trump's attempt to fire Mueller were in fact independently confirmed by Fox sources.
No doubt his mentions were deluged with heckling tweets. By turning off his account he:
1) cut off the uncomfortable mentions.
2) effectively got the story changed to rumors of his being oppressed by Deep State operating through Twitter.
Cleaning up the chaos on social media lies in the hands (or thumbs) of everyone on social media. Each of us must take the responsibility to stop, take a breath and evaluate the information before we react.
Related:
Learn how to use Google reverse image search to debunk doctored photos and identify stolen profile pics used by bot and troll accounts.
How Russian troll accounts use inspirational hashtags to work their way into your heart.